The highly anticipated release of Nicki Minaj's first single of 2019 has finally arrived. "Megatron" which samples the classic old-school dancehall beat of "Heads High" by Mr. Vegas, contributes to the infectious beat as Nicki combines sexy lyrics and a catchy hook. The song's formula contains all the needed elements of a certified summer hit that can bring liveliness to any event.
The visual for the song was directed by Mike Ho and is reminiscent of Minaj's iconic "Anaconda" video during The Pinkprint era. "Megatron" displays Minaj looking stunning and expensive as expected draped in a $287 Dolce & Gabbana swimsuit, $597 YSL platform sandals, $2,340 Prada feather robe, and her "Fendi prints were on" while sporting a two-piece bathing suit and fur bomber.
The song and visual combined appeal to summer and tropical aesthetics featuring energized dancers, Minaj's branded MYX Moscato Fusion drink, a burning Lamborghini, and dancehall culture. Nicki is a Trinidad native and is no stranger to experimenting with dancehall beats("Coco Chanel", "Swalla", "Freaks", "Trini  Dem Girls", "Touch Down Remix") and combining them with her cleverly-written and confident lyrics.
"I fuck him like I miss him, he just came out of prison. Bitches be talkin' shit but they ain't got a pot to piss in. My name is Nicki M, I'm in a sticky Benz. That-that mean it's candy apple red, I'm Barbie, this is Ken."
While many expected "Megatron" first introduced on 2018's "Transformer"  to be less playful and more "gutta", there is no doubt that Nicki will soon deliver those classic bar-for-bar tracks over hip-hop beats. That is her musical core and her ability to act as a chameleon throughout genres of music including dancehall, hip-hop, pop, and r&b only further support her capabilities as an artist and writer.
It wouldn't be a Nicki Minaj release without an episode of her infamous radio show, Queen Radio, available on Apple Music. Since the launch, Queen Radio has gained a reputation of celebrity-filled shenanigans, music premieres, and updates from Minaj addressing her fans on her personal opinions and life. 
On this particular episode, Minaj revives her feud with Miley Cyrus referring to her as "Perdue chicken" and insinuated that she had sexual relations with Hip-hop producer, Mike Will Made-It. Mike Will was an enormous part of Cyrus "Bangerz" era back in 2014, earning her a number one album, a number one single, and was arguably the peak of her career. Cyrus recently mentioned Minaj in her new single "Catitude", stating "I love you Nicki, but I still listen to Cardi." This comment upset the rap icon who called out Miley back at the 2015 MTV VMA's while accepting an award. That speech birthed the iconic "Miley what's good" moment.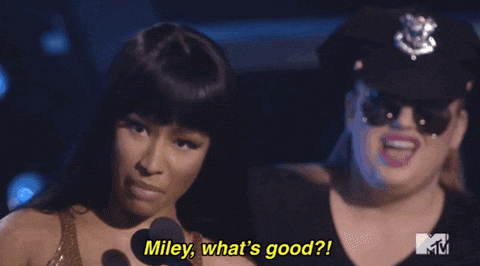 However, Miley recently praised Nicki while promoting her single by stating "They're both queens. Anytime you want to feel powerful and strong, they're my go-to: Cardi and Nicki." In no way did this deviate Minaj's opinion on the pop-star given her history with Cardi B and the fact that Miley just can't go without mention her any chance she can.
 
Minaj is also expected to become a married woman. Announcing on Queen Radio that she and childhood friend and boyfriend, Kenneth Petty, have filed for a marriage license. The queen is also expected to continue her tour in the U.S. once her fifth album is released.
 
Please reload